If you're in fashion your destination twice a year is about to become Kiev. Like it or not one of the worlds most overlooked cities has launched an international style event so diverse and powerful it already attracted the likes of Godfrey Deeny, Vogue Italia and Alena Doletskaya.
Kiev Fashion Days or KFD, is not Ukrainian Fashion Week, it was created as a platform for fresh faces from all over the globe. However, being based in Kiev,  nurturing the potential of young Ukrainian talent is naturally important to the organisers.
KFD has the look of world's top fashion weeks with beautifully produced catwalk shows, exhibitions and events. But what makes it a "must" for me is the workshops. Lectures by fashion legends like Godfrey Deeny of Fashion Wire Daily and Alena Doletskaya (editor of Vogue Russia for 20 years), as well as current hot property Yvan "Facehunter" Rodic and Elisa Bellini of Vogue Italia established KFD as a force to be reckoned with.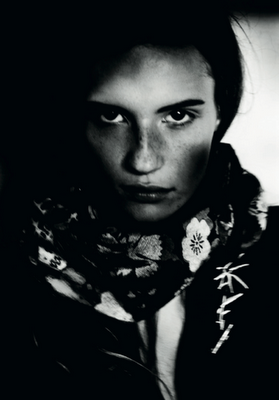 Photo-projects and exhibitions by the likes of TOP 10, LomoFest and visually stunning off-schedule installation with big poem boards by Velar jewelry, made the event the most diverse to date. KFD organizers are of a certain layer of Ukrainian fashion scene, they avoid East-European clichés and focus on cutting edge fashion from all over the world. "Our main goal is to educate, provide an outlet for expression and self-realization for the new generation of talent in the areas of fashion, photography, art and journalism," says Daria Shapovalova, the host of KFD and presenter of Fashion Week with Daria Shapovalova, the most popular and respected fashion themed TV show on Ukrainian and Russian television. She then added "KFD was created as an event where young designers from all over the world have a chance to be inspired by each other and expose their work to international press".
The old military factory of Mystetskyi Arsenal, where my grandfather happened to work for 20 years, provided a beautiful space which could easily compete with major fashion weeks, but was mainly appreciated for the simple fact that there was no need to hustle between shows in the rain-slash-snow that hit Kiev in the first two days of the event. Once I had a moment to absorb just how much this building has lived through, it made me slightly overwhelmed. I felt honoured to be reporting from here, a place with history so close to my own, now home to one of the most influential, positive and progressive events for Kiev. This city, although it endured a lot of hardship, is one of the oldest most beautiful capitals in the world. It has such rich, mysterious history that I'm very excited to see that KFD is attracting distinguished visitors.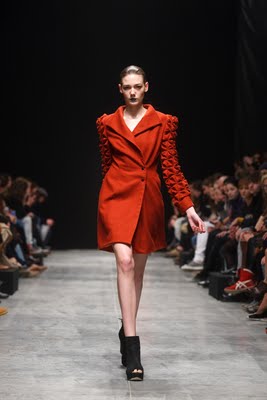 I invited rising star of London Fashion Week – Ada Zanditon to KFD primarily because she is an advocate for sustainable fashion movement. I felt that Ukrainian designers would benefit from learning from this amazing woman and I was hoping she would influence and encourage them to take steps in the right direction and begin to educate themselves on the importance of taking care of our planet. Ada did not disappoint. As a deeply caring individual, she took the time to give a wonderful educational lecture about ways of using sustainable materials and even shared contacts for her eco-resources. As someone whose goal is to use the power of fashion to trend eco-awareness I was extremely appreciative of her efforts. The show of her A/W11 collection inspired by alien species in Antarctica, was very well received, the crowd roared at the finale and I felt like a proud mom. I would describe Ada's current collection as one that fully explored geometrics. Her simple, chic, A-line dresses had triangular appliqué, her beautiful digitally printed gowns were elaborate kaleidoscope designs on silk and her complex pyramid textured coats looked very edgy and complicated and made me suddenly want to know what went into the process of coming up with this very elaborate design and then making it into reality. "I had some wonderful responses from talented young Kiev designers who were interested in working sustainably after hearing my lecture, they really embraced the design and concept of my collection," said Ada when I interviewed her for Dazed Digital. "The combination of workshops, installations, creatively curated exhibits and catwalk shows made it one of the most innovative international fashion events I've seen. I really enjoyed the lecture of Joerg Koch from 032c Magazine and Valery Kovalska show," she added.
Everyone is Ukrainian Just a Little
When I invited Ada I discovered she has Ukrainain roots, and was named after her granny Ada from Odessa. "Of course," I thought "babushka Ada". But I did not think Jeffrey Michael, who was the other designer I invited to KFD, had Ukrainian roots as well! I don't know HOW I didn't put two and two together because Jeffrey is originally Canadian and half of Canada is from Ukraine. I'm exaggerating about the "half" part but the funny thing was, I thought I was bringing two English designers, but as it turns out I brought more Ukrainians to Ukraine. Maybe everyone has Ukrainian roots, after all even Russia was originally part of Ukraine and it's the biggest country in the world, so there's a lot of us around.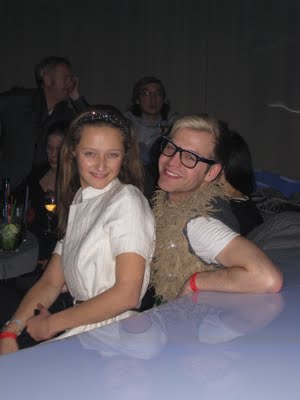 Jeffrey was ecstatic to be in Kiev, he could not get enough of "mlinci" (crepe with cottage cheese) and pulled in the crowd like moths to his LED Jeffrey Michael Design display. His lit up designs are created exclusively for celebrity projects. As I post this Jesse J is wearing one of his pieces in her new video. "This experience was literally life changing for me as a designer. Kiev was very innovative and the fashion I witnessed was unlike anything I have ever seen in other fashion capitals including Paris, New York, London and Toronto," said Jeffrey. "This is a forward thinking, fresh faced tribute to style and new designers," he then added.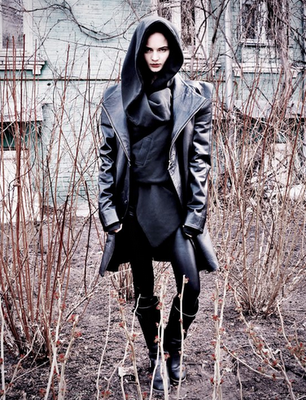 Since KFD is an international event highlights included the opening show of Francesco Scognamiglio "I love Ukrainian women and I'm really happy to be invited to show again," he said tongue-in-cheek. Swiss Ethical Fashion 2010 Award winner Wassilissa Bock and young Kiev designer Phil Bananov added to the trend of sustainable style with their eco-conscious presentations. Supermodel Alla Kostromicheva returned to her native soil to become the face of KFD and walk for Valery Kovalska. And Lamberto Petri returned to Kiev withLa Maison du Couturier. "I think KFD is the perfect place for development of any European fashion brand," said Lamberto. L.P. by Pustovit show was dominated by a fall take on pastels married with grays and an occasional splash of intense orange. Flowing pleated skirts, layered with knitwear, jersey and rainwear left a sentiment of femininity and fortification.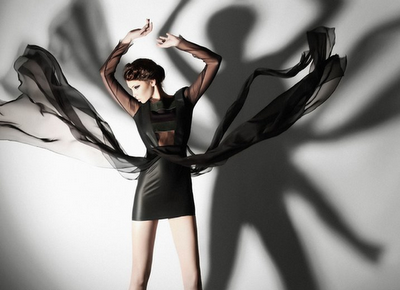 Manufactory created the atmosphere of revelry with live DJ's, and Anton Belinskiy was the topic of much discussion with his powerful one piece display. Anton, incidentally, happens to be one of the most wonderful people I ever met, when Jeffrey was stuck short of mannequins Anton took it upon himself to search the whole of Kiev for the damned dolls. These are the kinds of people I remember Ukraine being known for.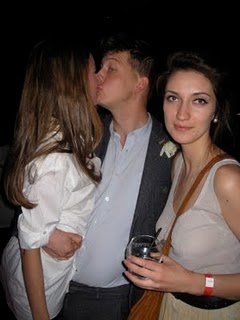 Our nights were filled with debauchery as Thieves Like Us performed at an underground club "Xlib" (Bread), which portrays a gastronome in the Soviet era, with masses queuing for the bakery, although Soviet masses didn't push and shove unless there was famine. Pete Doherty rocked Crystal Hall as he threw cigarettes in the crowd, then dove in after, guitar and drink in hand. Facehunter, whom after getting to know I lovingly dubbed "Streetwalker", was making sure he "covered" as many Kievan beauties as possible and Godfrey Deeny, doesn't just say he feels like a rock star in Kiev, he really parties like one. I am still in awe of him after spending some time chatting with him about love, life and sex and when everyone would adieu Godfrey, myself and Streetwalker would refuse to give up on Kiev and bounced from Draft to Icon and beyond. This is how I managed to get no sleep in four days after running around like a mad person from booth to show to workshop because I was asked to translate. I often wish I was a man when I'm in Kiev. The amount of beautiful women is just ridiculous. It's a tsunami wave that's so vast it's overwhelming and impossible to look away from. No wonder Godfrey and Streetwalker can't get enough.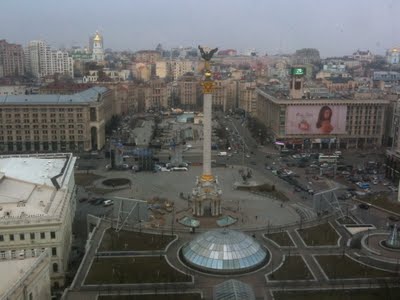 Back in USSR
I think I got the most pleasure out of meeting the wonderful people in Kiev. Zoot magazines Andrea and Thomas Probosch as well as Jeffrey and I were the last remaining after everyone departed by the end of KFD. The organizers invited us to a wonderful Soviet-era-reminiscent restaurant – Prolitarskaya Pivnaya "U Stanka" (Proletarian Beer Bar "By the Metal-Cutting Machine-Tool") where one can find wonderfully charming dishes like smoked herring wrapped in newspaper and mushroom julienne served in a glass jam jar, and of course beer and pelmeni aplenty. Wonderfully sweet Andrea and Thomas told us about their shoot in Kiev, the pictures are hauntingly beautiful and remind me of the mystically charged article I recently wrote on the city.
A big thank you to all at KFD for this incredible experience and a chance to meet wonderful people who are true style heavyweights and witness young fashion history in the making. See you October 20-23rd.
–
Kiev Fashion Days and Nights Written by Sofia Bak
The Kiev Fashion Days Show Schedule
Friday, March 25th
20:00   Francesco Scognamiglio (Italy)
Saturday, March 26th
15:00 sasha.kanevski
17:00   La Maison du Couturier (Italy)
19:00   Sosnovska
21:00   Vitaliy Pavlishyn
Sunday, March 27th
15:00  l.p. by Poustovit
17:00  Serguei Teplov (Russia)
19:00  Ada Zanditon (UK)
21:00 Valery Kovalska
Kiev Fashion Days Press Release:
25th – 27th of March, Kiev, Ukraine. Kiev Fashion Days, the first international fashion event in Ukraine will be held for the second time. Both Ukrainian and foreign designers will present their collections in Kiev, while editors of the most prestigious fashion magazines and bloggers will attend the shows. Kiev Fashion Days has adopted the standards of the world's major fashion weeks.
The star of Milan Fashion Week, designer Francesco Scognamiglio will open Kiev Fashion Days on the March of 25th. Scognamiglio will continue to celebrate the 10th anniversary of his eponymous house in Kiev, teaming up with Ukrainian L'Officiel, the very first Ukrainian fashion magazine, which will also celebrate it's 10th anniversary. In Kiev Francesco Scognamiglio will present 25 looks from his spring-summer collection, as well as the infamous dress worn by Madonna at the post-Oscar Vanity Fair party. "I am extremely happy to show my collection during Kiev Fashion Days. I like the style of Ukrainian women and I was very pleased with my initial visit to Kiev" says Scognamilglio.
The most important fact about Kiev Fashion Days is that it was created as a platform for new and young designers all over the world. Organizers of the event want to push the boundaries of Ukrainian fashion industry and to promote Kiev as a new destination for fashion devotees. It is essential for Kiev Fashion Days to welcome editors and journalists who represent prestigious media. Godfrey Deeny, the world-renowned editor of Fashion Wire Daily for the second time is appointed as an international representative of Kiev Fashion Days. Editors of such magazines as 032C, Zoot and Beast will all come to Kiev.
Educational part is vital for Kiev Fashion Days. Multiple lectures and workshops by foreign professionals are scheduled in the program of the event.One of the most important goals of Kiev Fashion Days is discovering new names and talents. "Pretenders section" was specially created for those designers, who are not ready to show their collections on professional catwalk. Specially equipped mini-podium is constructed for the performances and installations of young and fledgling designers from the international fashion scene (UK, Switzerland, Russia and Ukraine).