ANTES DE LA RESACA @ MUSEO UNIVERSITARIO DE ARTE CONTEMPORÁNEO DE MÉXICO DF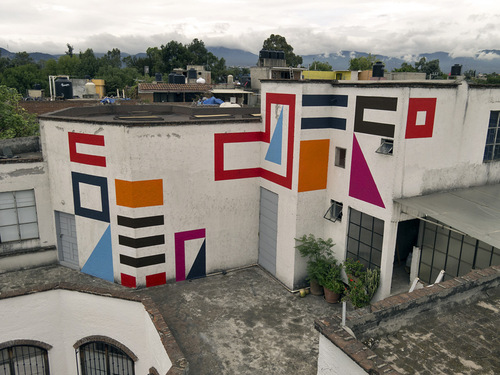 Eltono, Espacios Flexibles in La Quiñonera
On June 30th, 2011, the exhibition, "Antes de la Resaca" opened at MUAC (Museo Universitario de Arte Contemporáneo de México DF). The retrospective exhibition of Mexican art focused on re-installing back into contemporary society the creative spaces and innovative and radical proposals put forward by Mexican artists during the 1980s and 90s. Legendary art spaces such as, La Quiñonera, Temistocles 44, and La Panaderia sought artistic experimentation and collaboration amongst artists to create public dialogue which reach beyond the local. Artistic institutions were introduced to develop a sensitivity, openness and attentiveness towards the new artistic vocabularies that were surfacing. Collective and community art programs established the production of minimalistic and conceptual art. At the time, many members of society scorned such institutions with distrust.
Since the 1980s, La Quiñonera, has remained one of the most emblematic spaces of the Mexican art scene. Located in Coyoacan, in the south of Mexico City. The house, with its rambling construction and gardens, have both hosted and inspired multiple creative experimentations from diverse and well-known artists. This independent space is still providing a platform for artistic works that involve a conscientious posture and critical analysis of the social and political problems in Mexico City and beyond.  It acts as an area where political and social expression can be harvested and released as an art form.
Curators initiated the exhibitionat MUAC as a means for reassessing and re-appreciating the work produced by a particular group of artists and the extent to which their work during the 80s and 90s has played out on and affected contemporary art in Mexico. Included in the exhibition are Mexican artists such as Francis Alys, Gabriel Orozco, Teresa Margolles, Grupo Semefo, Mónica Castillo, Boris Viskin and Gabriel Macotela, as well as iconic Mexican bands such as Santa Sabina & Caifanes.
In conjunction with the exhibition, Nestor Quiñones organized the show "Espacios Flexibles" in collaboration with Anonymous Gallery (New York) and La Curtiduria (Oaxaca) to give continuity to La Quiñonera as an exhibition space in parallel with the MUAC program.
Renowned public space artist, Eltono was invited to participate in Anonymous Gallery's first public project in Mexico City. Working since 1989, Eltono has exhibited his art around the world in cities such as San Paulo, Paris and Korea. His unique affinity for unuasual, often abandoned, materials gives his work absolute freedom. Deriving his abstract, often colourfully geometric style from classic grafitit writing, Eltono has developed a unique form of abstract minimalism which has led to his involvement in outdoor projects at galleries such as the Tate Modern in London and the Liverpool biennial as well as showing his work in 12 countries. His artistic ventures are triggered by the impulse to emphasise the gaps in public spaces, counteracting and subverting advertising signs and posters which he views as being imposed on society by force. His painting, in contrast, promotes a 'kind of visual rest' – they exist within an aesthetic state of compositional harmony. Eltono wishes to push the boundaries of mass communication.
–
Emma Corbett for XXXX Magazine