ASHER LEVINE HITS LONDON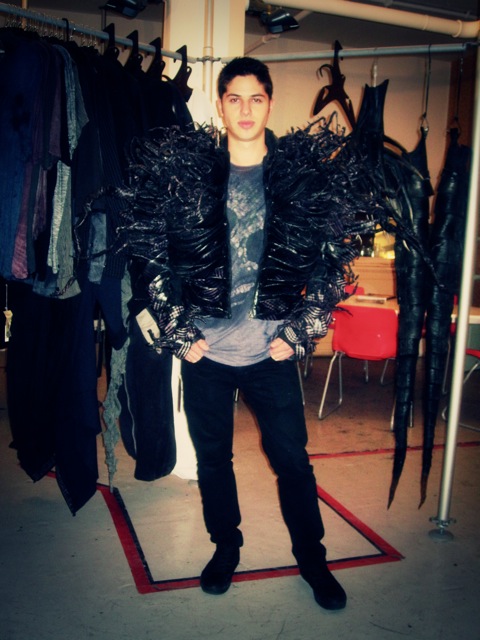 Asher Levine in his latest collection of menswear
XXXX Magazine's Creative Director, Indira Cesarine, caught up with up-and-coming fashion star Asher Levine while he was in London showing his latest collection at the Blow PR offices. His menswear is not only only original and cutting edge, it can double as wearable sculpture for the fashion enthusiast.  Lady Gaga is his most famous fan, having worn his clothing for several shoots as well as a recent music video. Fashion maverick Nicola Formichetti is another well known trend spotter who has become an Asher Levine fan, having recently collaborated with him to design limited edition T-shirts which debuted in Nicola's pop-up store in Soho during New York Fashion week in September.  The designer himself posed for a few shots at the showroom wearing his latest menswear collection, titled Stage. 118. Definitely a name to look out for as the  designer is only 23 years old, and has now completed his fourth collection for his namesake line.
At the tender age of ten Asher Levine was already using his first sewing machine. One can be certain that the boy from Port Charlotte, Florida never imagined that thirteen years later he would become designer and collaborator to some of the biggest performance stars and fashion icons in the industry. Levine moved to New York City in 2006 to study managerial entrepreneurship at Pace University, and brought with him an understanding that fashion, like other industries is a business.  The designer notes biology and organic structures to be the inspiration behind his collections. He also intends on creating more diverse silhouettes for menswear as he feels it is very limited when compared to numerous styles, cuts and shapes that define womenswear.
During Spring/Summer 2012 New York Fashion Week, Levine presented "Stage. 118".  The collection presented a colour palette of black, grey and dark purple, was inspired by what the designer called an "infection in New York City".  Models emerged in jumpsuits, tailored blazers, and denim with mesh detailing. The collection consisted of edgy menswear silhouettes that combined street style with futurist elements that resembled extremities of insects or even aliens attached to the model's bodies. Levine explains that his work is often influenced by the natural world and "not only flirts with the ideas of the visceral, but also, takes an explorative stance on the human figure and its condition."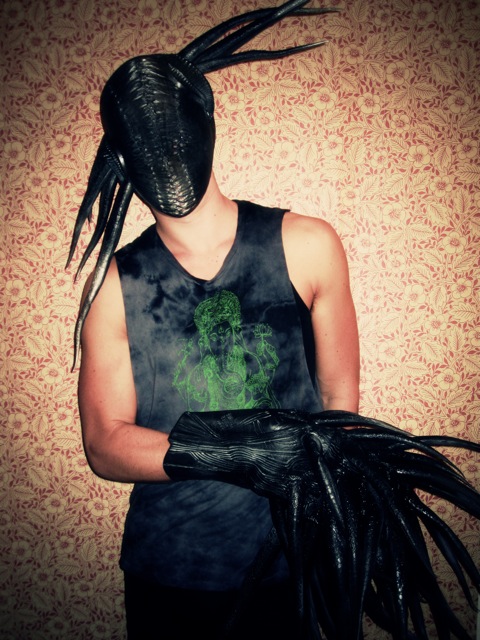 Asher Levine presents some of his wearable sculpture pieces
Levine started making headlines after Lady Gaga was photographed wearing one of his oversized biker jackets at a New York City hot dog stand. Levine continues to work with Gaga and her team of fashion directors stating, "The Haus of Gaga is really a collaborative initiative that provides an avenue for individuals to express creativity and push the boundaries of what's out there… It's more than just fashion, it's a whole visual movement." Most recently, Levine custom-designed a bustier styled, black lambskin jumpsuit for Lady Gaga's "Marry the Night" music video.
With critics stating that Levine's ability to innovate is comparable to a young Alexander McQueen, dubbing him the Tim Burton of the of the fashion world, one can only imagine what the "mad scientist" will create in the future. With his couturier sewing skills and business savvy background, Levine's creations range from mainstream and wearable, to shockingly beautiful statement pieces. Now, dressing the Queen of Pop music, Levine is quickly becoming Prince of the fashion world.
Article by Indira Cesarine & Daria McWilliams 
Photography by Indira Cesarine