FACTORY PROJECT- PRESENTED BY WEST LONDON ART FACTORY & GRAFFIK GALLERY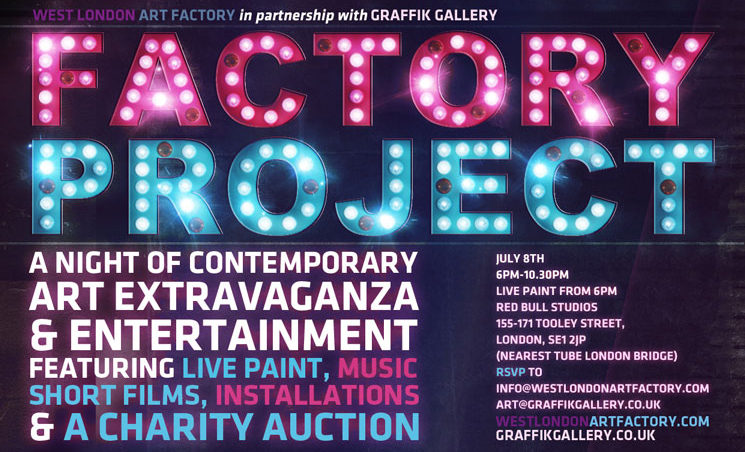 FACTORY   PROJECT
JULY 8TH
PRESENTED BY WEST LONDON ART FACTORY & GRAFFIK GALLERY
6PM – 10:30PM  RED BULL STUDIOS,155-171 Tooley Street, London, SE1 2JP
A NIGHT OF CONTEMPORARY ART EXTRAVAGANZA, ENTERTAINMENT & A CHARITY AUCTION
FEATURING A VIDEO ART INSTALLATION BY INDIRA CESARINE of XXXX MAGAZINE
LIVE PAINTING BY ARTISTS: STIK – FIN DAC – BEN SLOW – COSMO SARSON – MAC1 – DANIEL EMO
AUCTION FEATURING CONTEMPORARY ARTISTS:
INKIE – MILO – JEWEL – JOANNA SCISLOWICZ – ATA – BELINDA FRIKH – STUDIO PHILLY – DS – LAURA TINALD – LEEKS – ALEC
MONOPOLY – LUCY SPARROW – DREW & ELI – AMAR STEWART – GEORGE MORTON – CLARK – CARNE GRIFFITHS – OTTO SHADE – ZEUS
AUCTION PROCEEDS TO BENEFIT THE "PAINTINGS IN HOSPITALS" CHARITY PATRONED BY THE PRINCE OF WALES
Paintings in Hospitals is dedicated to reducing sickness, anxiety and stress, through the display of art, in healthcare facilities across the UK. Our charity improves the clinical outcomes of patients by offering healthcare facilities access to a diverse art library and specialised artist-in-residence services.
Art displayed in clinical environments can improve the outcome of treatment and the well-being of staff and the general public. The work of our charity supports the lives of many thousands of people each year by bringing interest, warmth and colour into clinical environments which might otherwise appear cold and sterile. Paintings in Hospitals receives no regular public funding and relies on grants and donations to continue its services.
6PM – 10:30PM
RED BULL STUDIOS, 155-171 Tooley Street, London, SE1 2JP
AFTER PARTY
THE HOSPITAL CLUB: 24 Endell St, Covent Garden, London, WC2H 9HQ
For More Information or to RSVP for the event please email: EVENTS@XXXXMAGAZINE.COM