JANUARY WHITE SALE – EXHIBIT OPENING AT LORETTA HOWARD GALLERY
[slidepress gallery='art-january-white-sale']
On January 13 the buzz of openings around Chelsea was all about the January White Sale at the Loretta Howard Gallery, curated by Beth Rudin DeWoody. The group show featured 50 different works of contemporary art, from emerging and established international artists. The concept of the "January White Sale"  is obviously a play on words with the classic January clearance sale for bedding, although it is clear from the works on display that they are anything but "sale " items. The exhibition blends both important post-war American works, the focus of the gallery, with DeWoody's playful and sometimes highly provocative aesthetic.
Artists featured in the exhibit include: Richard Anuszkiewicz, Alice Aycock, Darby Bannard, Sheila Berger, Bram Bogart, Hubert Bush, Francis Celentano, John Chamberlain, Julia Chiang, Jim Clark, Colette, Michael Combs, Keith Coventry, E.V. Day, Peter Dayton, Don Dudley, Margaret Evangeline, Mark Fox, Carl Fudge, Orly Genger, Peter D. Gerakaris, Robert Gober, Richard Haden, Alice Hope, Timothy Horn, Rachel Hovnanian, Deborah Kass, Dylan Kawahara, Yayoi Kusama, Luisa Lambri, Robert Lazzarini, Sol LeWitt, Liza Lou, Matt Magee, Mandad, Yassi Mazandi, Paul McCarthy, John McLaughlin, Deirdre Merrigan, Jeffry Mitchell, Simon Dybbroe Møller, Maynard Monrow, Roxy Paine, Randy Polumbo, Anselm Reyle, Dorothea Rockburne, Cordy Ryman, Tom Sachs, Arlene Shechet, Kasper Sonne, Steven & William, Marc Swanson, Erick Swenson, Type A, Leo Villareal, Sidonie Villere, Gerhard von Graevenitz, Steve Wolfe, Erwin Wurm, and Rob Wynne.
The 50 works included a wide variety of media, painting, photography, sculpture, assemblage and video in the all white Installation. What stood out was the subtleties of the tones, and the variety of concepts that each artist brought to the works, which were all brought together in the universality of their negative color, yet maintained their own identity. Curator Beth DeWoody claims part of the inspiration for the show is that white is her favorite color, "My motto is 'Paint it white'. In design and architecture, mistakes can often be rectified by making an object or structure white. With the lack of color in art, the form becomes most important, and emerges front and center."  My personal favorite was Bandage Dress-White, 2010, by artist E.V. Day, which featured a white Herve Leger dress stretched in shreds across a large white steel and wood frame by metal wires.  Brilliantly modern, it deconstructed the dress to the point of it no longer being recognizable, a strong reflection on how fashion can play a part in contemporary art today without directly referencing it in a typical way. Other works that stood out included Skull, 2010, by Robert Lazzarini, a sculpture of a scull that presents itself as an optical illusion, Pajama Set, 2009, by Dylan Kawahara, Roll, 2010 by Liza Lou, The Flower Bed, 2010 by Yassi Mazandi, and Untitled, 2010 by Maynard Monrow, which consisted of a white neon sign stating "NATURE IS A LANGUAGE CAN'T YOU READ".
An exhibit not to miss, The January White Sale will be on view January 13 – February 12, 2011. Loretta Howard Gallery is located at 525 West 26th Street, New York, New York. Gallery hours are Monday – Saturday, 10 am – 6 pm.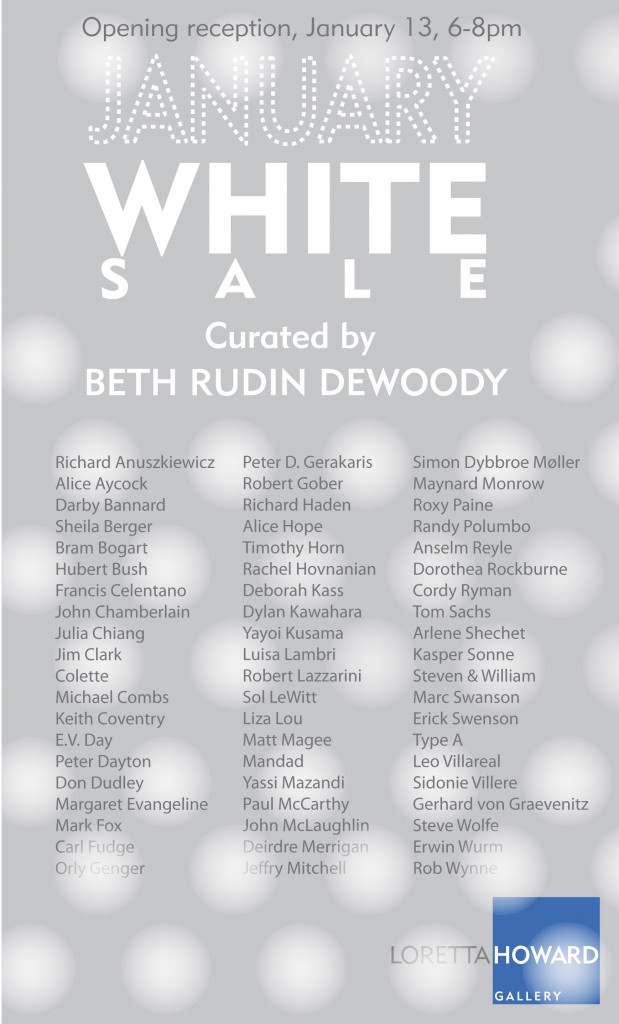 –
Article by Indira Cesarine for XXXX Magazine