"IT TAKES ALL THIS TO BE ME" KENTON PARKER AT PRIMARY PROJECTS MIAMI
Article by Shana Mason for XXXX Magazine
The cavernous gallery space of Primary Projects, lodged in the Driade building in the Miami Design District, somehow generates a reverb; a feeling that exhibitions have been happening there for years and its creative directors are aged veterans of the blue-chip commercial art market. Amazingly, this space attracts the most diverse range of powerful collectors and fashion-forward youth under an imitable, defiant metaphoric banner: just try and step up to us. We welcome it.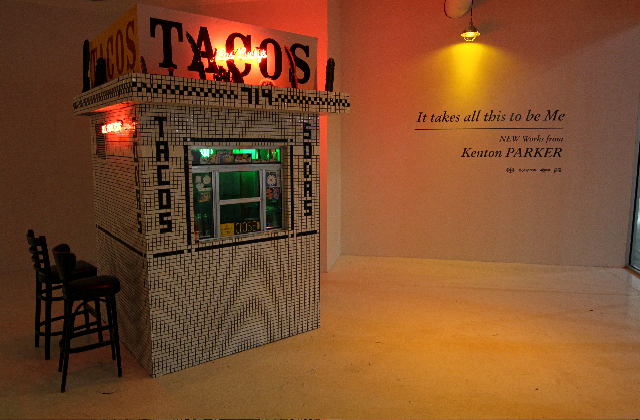 Such is the case with its current exhibition, It Takes All This To Be Me, exclusively featuring the works of L.A.-based artist Kenton Parker. The curatorial scheme slightly frantic, slightly schizophrenic is perfectly appropriate in relation to its content; kaleidoscopic bursts of canvas in varying sizes, a collection of trophies blatantly mocking ideas of achievement and bravado with the gold-plated figures rendered as active perpetrators of authoritative violence (in other words, cops with handguns and soccer players kicking each other in the nether-regions), and most prominently, a full-scale recreation of Parker's functional "Taco Shop" modeled after his first establishment near the Las Palmas nightclub (crafted with a porcelain-tiled exterior, Retro neon signage and an array of random objects ready to be re-sold). In a nearby ante-chamber, Parker amalgamates tangential associations between dated Pop culture imagery (extracting informational television programs and campy late 70s TV commercials) and a loose 'beware-of' news bulletin narrative in 'My First Ralf'.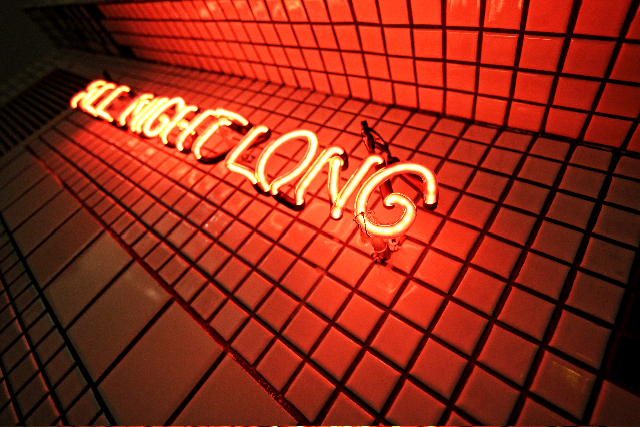 The results are, in uncomplicated terms, laugh-out-loud to those old enough to remember the overbearing Cronkite-era programming of the late Fifties to early Sixties and young enough to appreciate the saturated hysteria of imagery stemmed from the ratings-driven, deep-fried culture of 'Cops', 'World's Most Exciting Police Chases' and random syndicated sitcom clips. While the content may elicit a 'WTF'-type response at the outset, the editing reveals a razor-sharp, seamless conversation about how the viewer digests the ethereal mass media giant and its plethora of socio-political agendas. Parker's film communicates an acute visual awareness translated into archived footage; often the vibrations of the half-campy, half-piercing aesthetic of Johan Grimonprez's soaring masterpiece 'dial H-I-S-T-O-R-Y' (2003) are distantly felt.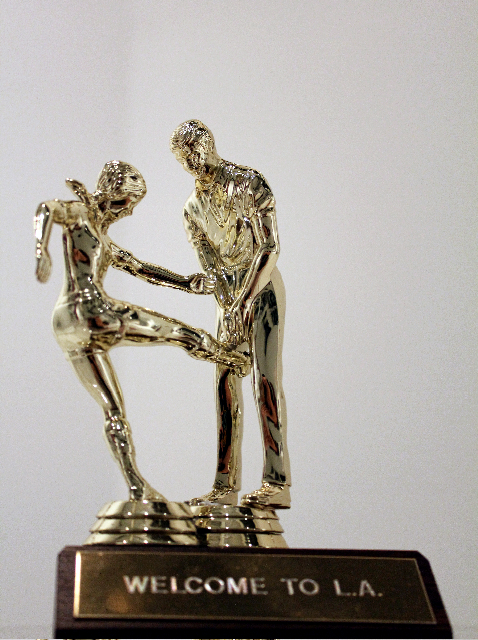 It's rather difficult to coax Parker towards describing the motivations or amorphous methodologies behind his work, but what he will reveal are his distinctive observations of his home city. 'To me, L.A. is fueled by the entertainment industry first, art seems to come second to that. L.A. is Hollywood. But I don't think my art is about Hollywood, rather the life I lead in Los Angeles as a whole. The trophies, for example, make up a social commentary about L.A. being a being a dangerous, gun-toting place but still being a beautiful place.' His impressions are all critical, but playfully so, of the police subculture, global corporate conglomerates and the visual arts industry, itself. Perfectly in step with the beat of Primary Projects' drum, Parker erects a proud expletive gesture at everything which threatens the spontaneity, freedom and, at times, madness of the artists' world. Welcome to L.A.
 Images courtesy of Peter Vahan and Primary Projects, Miami