JULIEN MARINETTI "DOGGY JOHN" EXHIBIT OPENING, NEW YORK
[slidepress gallery='art-julien-marinetti-doggy-john']
DOGGY JOHN: DISCOVERING THE WORLD OF JULIEN MARINETTI
WHAT: US Debut exhibition of French artist Julien Marinetti's DOGGY JOHN sculptures and celebration of the monumental DOGGY JOHN Installation at the New York Palace Courtyard.
WHEN/WHERE: May 10, 2011. Reception 6:00 – 8:30 at The Madison Room of The New York Palace.
WHO: Honoring Julian Marinetti and hosted by Nadia Röttger and Edward Mady, joined by Geoffrey Bradfield, Erin Fetherston and Amy Sacco.
Guests include: Phillip Bloch, Lady Liliana Cavendish, Kimberly Guilfoyle, Gillian Hearst-Shaw, Kim Heirston, Barry Kieselstein-Cord, Reni Lane, Countess LuAnn de Lesseps, Fern Mallis, Susan Shin, Mary Snow, Michelle Smith(Milly), Kristina Stewart Ward, Viktoria von Siemens and Carolina Zapf.
Julien Marinetti was only five years old when he created his first still life oil painting on a tea towel and started frenziedly distorting everyday objects into primitive polychromatic sculptures. He spent his youth between the workshops of great artists and national museums. Feeding his imagination on cinema, classical music and punk rock, Marinetti also studied academic drawing and sculpture at the "Ateliers de la Grande Chaumière." Young, impatient and already a prolific artist, he only spent a day at the Beaux-Arts (French Academy of Fine Arts) before dropping out and devoting himself to his art.
After years of oil painting, in 2004 Marinetti renewed his relationship with sculpture, creating his masterpiece, "Doggy John" which has fired imaginations worldwide. Counter to the trend of using resin, Marinetti works in bronze, a noble and unalterable medium. He is a master of shape and material, but any classicism ends here: sculpture unexpectedly becomes a three-dimensional canvas for his imagination. Each "Doggy John" is a unique piece of work; like a sphinx of modern times it reflects contemporary society and its history in an explosion of color and with powerful compositions. Marinetti aptly refers to his sculptures as paintings. In 2006, Marinetti abandoned collage and started treating his masterpiece itself as a "support-surface". Marinetti unleashes his insolent mastery of color, always magnified by impeccably lacquered finishes. The works are violent, funny or mysterious and always unsettling. The viewer immediately projects his own personality through the works, which generates a personal, almost instinctive connection with the sculpture — so much so that most collectors do not hesitate to rename their "Doggy John".
In his exploratory approach to "support-surface" Marinetti extends his talent to monumental sculptures. His "Doggy John – Obama" (6.5 feet and 1320 pounds) was presented in 2007 at the Grand Palais in Paris, and in various international galleries. In 2009, Marinetti began exploring portraits and self-portraits – which evolve as his painting does. He applies a lacquer technique to his two-dimensional pieces, giving acrylics an innovative, mirror-like finish. The first series of lacquered portraits is wittily named "Flat Doggy John". It is followed by a series of Vanities (skulls), on which symbols, graphs and poems reflect the artist's questions about his own condition. In 2010, Marinetti created a giant "rubber" duck cast in bronze — an animal representation reduced to its simplest expression. Exploring new volumes and shapes, the duck is yet another challenge for the artist, constantly in search of unexpected ways to express his creative vision. Marinetti approaches his paintings and his sculptures in the same way, covering two-dimensional or three-dimensional surfaces with the same effervescence and sometimes, irreverence.
At 43, Marinetti has a rich and diverse body of work to his name. His disconcerting technical mastery and eye for unexpected combinations, reject traditional constraints and is a springboard for renewal. Considered by some as free figuration and abstract expressionism, sometimes bordering on "Bad Painting", Marinetti's work is symbolic and rich in sources. Syncretic and universal, it is as accessible to the uninitiated as well as sought after by the most discerning collectors.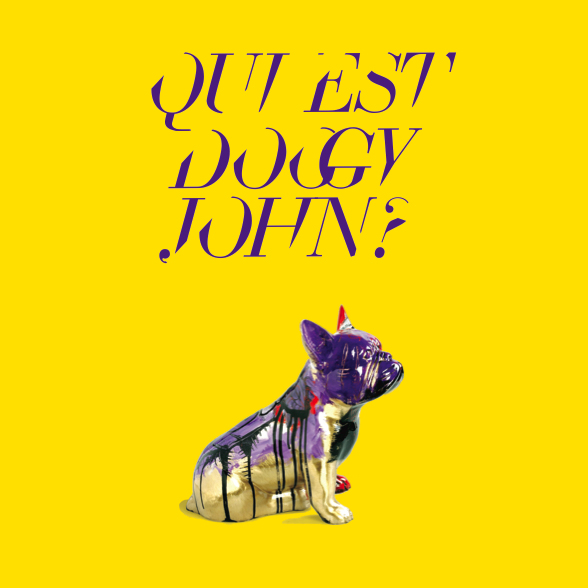 –
Indira Cesarine for XXXX Magazine